Erlebnistherme Zillertal
steam room
The steam room in Erlebnistherme Zillertal is spacious. It features small, cosy nooks and pleasant lighting. The ancient Romans already knew about the positive effect that steam baths have on the skin, hair and respiratory organs.
The steam room is characterised by its moist heat with 100% humidity and a temperature ranging between approx 40 – 50°C. The body can optimally regenerate given these conditions.
Many believe that they sweat more in a steam room than in a sauna. But the opposite is actually true. When entering the steam, fine droplets are deposited on the skin - so the body no longer has to sweat to cool down. This way, the body may heat up faster.
The pores of the skin open,are better circulated with blood and the metabolism gets going. It comes close to the Fountain of Youth! Your muscles relax thanks to the warming sensation. The humid air, which is ideally infused with eucalyptus and herbsfrees the bronchial tubes. So take deep breaths. This way you may even be able to fend off an impending cold before it takes hold.
Temperature: approx. 40-48°C
Humidity: approx. 100%
recommended session length: 15 minutes
Available space: 17 persons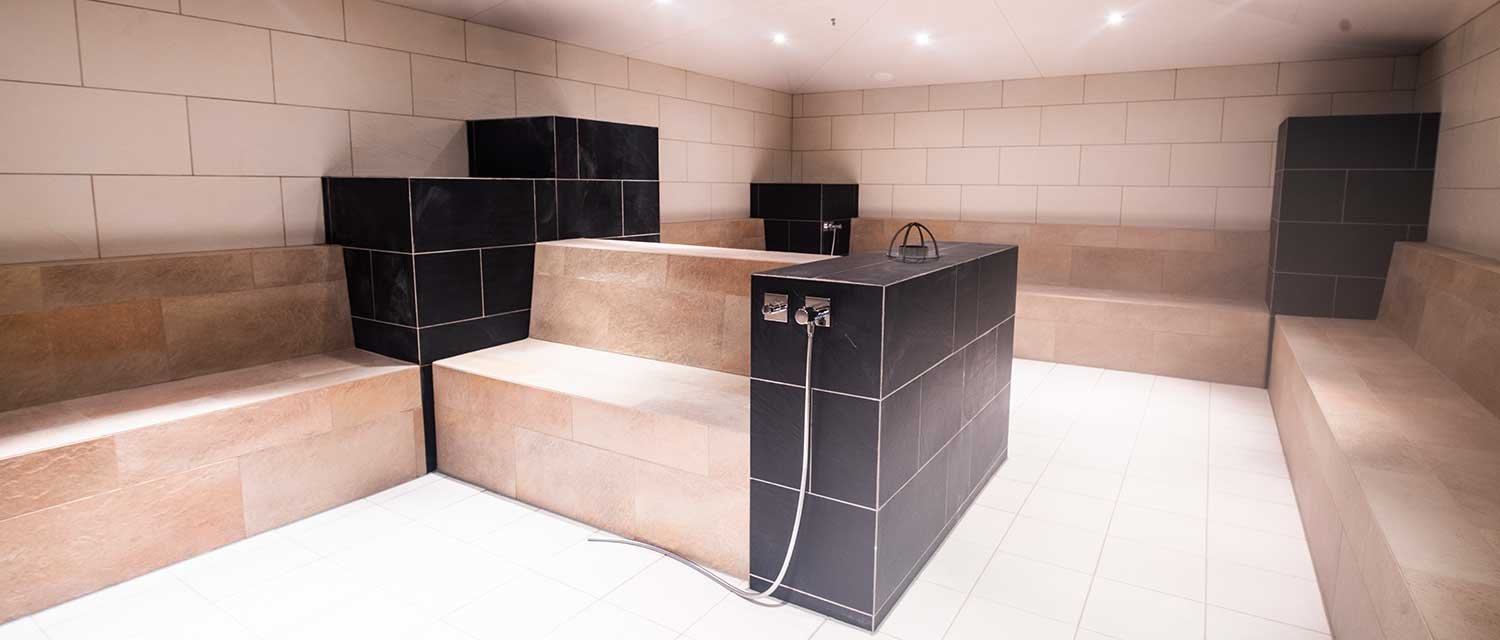 Brine steam bath
What a steam room has to offer, a brine steam room can do even better. Here too, your body sweats less because the steam already moistens the skin's surface and thus prevents sweating. Muscles relax, your blood circulation increases and the metabolism is stimulated.
The brine steam room is the absolute frontrunner when it comes to skin care and pulmonary functions. The additional salt in the steam has an antibacterial and anti-inflammatory effect. So it alleviates allergies, respiratory problems and skin diseases. Mucous membranes decongest and a blocked nose can breathe again. If you feel a cold coming on that has not taken hold, you may be able to fend it off. A brine steam bath is thus like salt in your soup - you could drink it without salt, but it's always better when you add some!
Temperature: approx. 40-48°C
Humidity: approx. 100%
recommended session length: 15 minutes
Available space: 31 persons